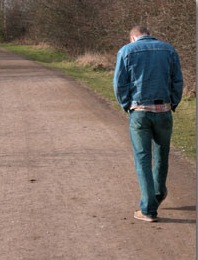 Loneliness is a serious malady. Studies have shown that loneliness can affect the same part of your brain that triggers physical pain. Some research has shown that as high as 20% of Americans suffer from loneliness. The research on the causes of loneliness are varied as are the symptoms and cures.
Loneliness also affects Christians and the church needs to take a closer look at this malady and its treatments. It is true that a Christian without friends many times is not very friendly. However, many Christian singles suffer from a lack of intimacy, elderly Christians are home bound and lonely, and even a married person can suffer from loneliness.
So what is the cure? First of all, I am not a psychologist nor am I trained in Christian counseling. I have suffered from loneliness, especially when I went through my divorce. I have felt lonely when I'm away from my bride on business.
What I want to share with you is to how to make the best of these times of loneliness. Sometimes the Lord would have us be alone so we can spend time with Him. This workaday world can sap all our attention and energy that we can go days without even giving our Savior so much as fives minutes each day. It's pretty difficult for our walk with Christ to grow and mature in that setting. Sometimes our Heavenly Father puts us in lonely places just to spend time with us:
"Then the hand of the Lord was upon me there, and He said to me, 'Arise, go out into the plain, and there I shall talk with you.'" (Ezekiel 3:22)
We are familiar with the many times Jesus would go away from the crowds to be alone with His Heavenly Father:
"And when He had sent the multitudes away, He went up on the mountain by Himself to pray. Now when evening came, He was alone there." (Matthew 14:23)
There have been times when all I wanted was to be alone. As the third child of six with two older sisters, I preferred solitude as a younger child because I had an active imagination and enjoyed being alone. I still need times of solitude where I can think things through clearly and seek the Lord's guidance.
"Lead me in Your truth and teach me, for You are the God of my salvation; on You I wait all the day." (Psalm 25:5)
At times loneliness can be caused by treachery from those we considered friends. It is easy to become bitter and protect our hearts from ever being hurt again. Betrayal can inflict loneliness on us in ways we could never imagine, all the while Satan is validating your feelings dragging you deeper into a pit of despair. You need the Lord Jesus Christ's guidance more than ever:
"Lead me, O Lord, in Your righteousness because of my enemies; make Your way straight before my face." (Psalm 5:8)
It is in times of loneliness that being alone with Christ can be some of the greatest moments of spiritual growth a Christian can experience. Clarity comes to the Christian who is willing to be alone with Christ:
"Teach me to do Your will, for You are my God; Your Spirit is good. Lead me in the land of uprightness." (Psalm 143:10)
If you are a Christian suffering loneliness, let me offer these suggestions to help you.
First, if you do not have a church home you need to find one as soon as possible. Without a church home and church family, you are an orphan in this world. You need to fellowship of believers and they need you!
"And let us consider one another in order to stir up love and good works, not forsaking the assembling of ourselves together, as is the manner of some, but exhorting one another, and so much the more as you see the Day approaching." (Hebrews 10:24-25)
Second, if you are lacking friends then you first need to check how friendly you are to others. Go to your pastor and ask if he knows of a person of the same sex and near your age who needs a friend. Go out of your way to introduce yourself to that person, or just seek someone to whom you can be a friend.
"A man who has friends must himself be friendly, but there is a friend who sticks closer than a brother." (Proverbs 18:24)
Third, find a place or places in your church and community to serve. When you are serving others in the name of the Lord it is pretty difficult being lonely. In fact, it is nearly impossible.
"Serve the Lord with gladness; come before His presence with singing." (Psalm 100:2)
Lastly, and more importantly, learn to be alone with Christ. As much as possible, start your day out in His Word and seeking His face and guidance for the day to come. This is not always possible for the busy mom, but at some time during the day or at evening, being alone with Christ is the antidote for many maladies suffered by Christians.
Loneliness can be a disadvantage that turns into an advantage knowing that when we're alone with Christ we are never really alone.
In Christ
Dave
Ps. 37:4
If you're receiving these devotionals for the first time and would like to receive them on a regular basis, please email me at jeffers221@bellsouth.net and use "Please add to Devotional List" as the subject. You can purchase Dave's four devotional books by visiting his Amazon author page.
Copyright © 2014 David Jeffers
Tags
Bible, Christianity, Culture, Depression, Faith, Grace, Guilt, Hope, Joy, Mercy, praise, Prayer, Revival