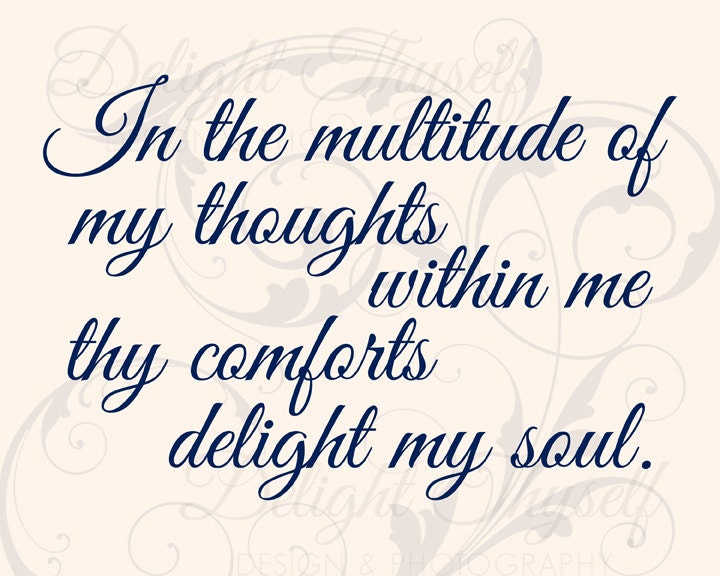 People are losing hope. American patriots despair for their country and look at the state of our nation and see no hope. We look to Washington D.C. to voice our complaints and all we get in return are political patronizing pats on the head.
Many are ready to give up on politics altogether. Glenn Beck just announced yesterday that he's leaving the Republican Party. My friend Ginni Thomas, wife of Supreme Court Justice Clarence Thomas, is considering the same move.
I can easily slip into the currents of hopelessness if I focus only on the waters of despair. Glory to God, He has taught me to have heavenly eyes with my earthly feet. My faith cannot rest in men; I can trust men to represent me in government. However, I must know that God is in control, and knowing this I can experience joy even in the midst of calamity and corruption:
"In the multitude of my anxieties within me, Your comforts delight my soul." (Psalm 94:19)
You may be wondering how it is possible to feel delight in your soul when the world around you is crumbling. My delight is not one of the physical or emotional realms; it is spiritual. I can experience spiritual joy because I am a child of God. For those who think we are all God's children, please read John 1:12 to get clarity on that hellish lie. We are not born as God's children; we must be born again.
Nevertheless, as a Christian I have special privileges not available to those who do not follow Christ as their Lord and Savior. These privileges are not monetary as the "name-it-and-claim-it" prosperity peddlers of Christ teach through their wicked gospel. My privileges are bestowed upon me through the blessings of God:
"I will greatly rejoice in the Lord, My soul shall be joyful in my God; for He has clothed me with the garments of salvation, He has covered me with the robe of righteousness, as a bridegroom decks himself with ornaments, and as a bride adorns herself with her jewels." (Isaiah 61:10)
Now please don't misunderstand me; there are many times that I experience despair or get despondent. When those times do come, I know that I need to return to my first love in Christ and seek a refreshing from Him. If I am relying on my past experiences with Jesus to carry me through my workaday world, I run out of spiritual fuel and my joy wanes.
However, if in those times that I'm feeling defeated or depressed I turn to God's Word for a new spiritual infilling of His truth and wisdom, then I can face whatever is before me. I have the truth available to me at all times in my Bible.
I need not wonder what will happen, even if I am unsure of a particular situation's outcome. Why can I be so sure? I can be so sure because surely my God reigns.
Not only can I have a confidence no matter the situation I face, I can also face those situations with boldness available only because of my relationship with Jesus Christ:
"Great is my boldness of speech toward you, great is my boasting on your behalf. I am filled with comfort. I am exceedingly joyful in all our tribulation." (2 Corinthians 7:4)
How could Paul be exceedingly joyful in the midst of a great trial? False teachers who had infiltrated the Corinthian church were accusing him of being a counterfeit apostle. Nevertheless, Paul knew that his calling was from the Lord and he was confident that in the end God would deal with his accusers.
This is an important reminder for all of us. When times seem desperate and we are sinking to new depths of despondency, we need to remember those things that delight our souls.
Jesus is the King of kings and Lord of lords. He sits at the right hand of God the Father and is our Righteous Judge. No one, as in anyone, will escape Christ's judgment. Knowing this we can be "exceedingly joyful in all our tribulation."
In Christ
Dave
Ps. 37:4
If you're receiving these devotionals for the first time and would like to receive them on a regular basis, please email me at jeffers221@bellsouth.net and use "Please add to Devotional List" as the subject. You can purchase Dave's six devotional books by visiting his Amazon author page.
Copyright © 2015 David Jeffers
Tags
Bible, Christian Activism, Christianity, Conservatism, Corruption, Culture, Depression, Faith, False Teachers, Hope, Joy, Morality, Republicans, Revival, Truth, Wisdom