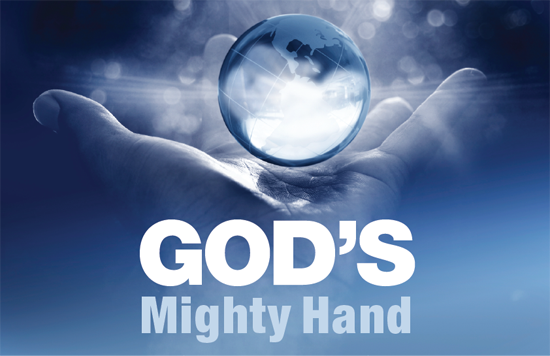 As Christians, the enemies of God are also our enemies. Those who oppose God and His biblical principles will also oppose those values we embrace. If we are to have spiritual victory in our Christian lives, then we will have to vanquish our enemies.
However, the weapons we use against our enemies are not what might first come to mind. We do not overwhelm our enemies with power; we overcome them with grace and truth just as our King Jesus did:
"And the Word became flesh and dwelt among us, and we beheld His glory, the glory as of the only begotten of the Father, full of grace and truth." (John 1:14)
The sons of Korah found in the Psalms were believed to be temple singers and some of mankind's earliest songwriters. Many of the psalms they wrote were from a spirit of gratitude and humility towards Almighty God. They were devoted to God and His glory. They also knew that in times of great tribulation that God would overcome His enemies:
"Through You we will push down our enemies; through Your name we will trample those who rise up against us." (Psalm 44:50)
As Christians we do not have to keep score nor try to get even with those who oppose and persecute us. We have to come to a confident understanding that our God is capable of defeating all those who come against us. We are defeated when we rely upon our own strength. However, when we trust in God's invincibility we are "more than conquerors" in Christ Jesus:
"Through God we will do valiantly, for it is He who shall tread down our enemies." (Psalm 60:12)
Would you like to be considered a valiant warrior by God? The Random House Dictionary defines valiant in three ways: 1) boldly courageous; brave; stouthearted; 2) marked by or showing bravery or valor; heroic; 3) worthy; excellent.
I don't know about you but I want my Heavenly Father to describe me in such a manner. However, I don't want to be considered as such because of my past ability to fight and defeat my enemies. Intimidation and violence are not the leadership qualities for which I wish to be known. I understand the need for self-defense and completely support it, nevertheless as God's man I want to be described as gracious and truthful. That can only be attained through faith in Jesus Christ:
"Above all, taking the shield of faith with which you will be able to quench all the fiery darts of the wicked one." (Ephesians 6:16)
I spend a great deal of my day pointing out the limitations of other men, and we do need to take a stand for truth and righteousness. However, can I defend myself before my eternal judge Jesus. Can I today say the words of Job in the midst of my most trying times?
"Though He slay me, yet will I trust Him. Even so, I will defend my own ways before Him." (Job 13:15)
Most days it seems as though the enemies of God are winning, and temporarily they are. Much of those perishable victories are won over ground given up by Christians. We give up spiritual territory because of fear and intimidation. This is not to say that such emotions are not natural; King David struggled with such feelings. Nonetheless, David knew to whom to turn:
"Whenever I am afraid, I will trust in You. In God (I will praise His word), in God I have put my trust; I will not fear. What can flesh do to me?" (Psalm 56:3-4)
In what or whom are you trusting? Do you fear what mortal man can do to you? Do you know and love God's word so much that you praise it?
It all begins with a personal relationship with Jesus Christ.
Do you have that?
In Christ
Dave
Ps. 37:4
If you're receiving these devotionals for the first time and would like to receive them on a regular basis, please email me at jeffers221@bellsouth.net and use "Please add to Devotional List" as the subject. You can purchase Dave's five devotional books by visiting his Amazon author page.
Copyright © 2014 David Jeffers
Tags
Bible, Christianity, Evangelism, Faith, Grace, Guilt, Hope, Mercy, Morality, praise, Revival, Truth, Wisdom