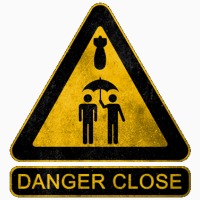 Defeat can be overwhelming. Whether it is in the arena of business, politics, or sports, defeat is always a hard pill to swallow. However, those defeats are temporary. Voluminous are the accounts of athletes, entrepreneurs, and politicians coming back from "the agony of defeat" to experience "the thrill of victory."
What do you do when life defeats you? Where do you turn when the devil has his foot on the back of your head, seemingly grinding your face in the dirt? You turn to the Lord Jesus Christ:
"Who shall separate us from the love of Christ? Shall tribulation, or distress, or persecution, or famine, or nakedness, or peril, or sword?" (Romans 8:35)
Romans 8:35, just another one of those refrigerator magnet power verses you always write about Brother Dave. It can be, but unlike the other verses, to misuse this verse you have to take the words out of context within the verse itself.
The Apostle Paul is not saying life is going to be all honey and no bees, to borrow a phrase of my pastor's. Paul is asking what calamity can come upon the Christian that can overcome him or her.
Can tribulation, distress, persecution, famine, nakedness, peril, or sword defeat the Christian? No, because we have a Savior who saves us from the penalty and the power of sin. However, we will be in the presence of sin until we are in heaven. Sin is real and so are its consequences. Oswald Chambers writes:
"Paul was not referring here to imaginary things, but to things that are dangerously real. And he said we are 'super-victors' in the midst of them, not because of our own ingenuity, nor because of our courage, but because none of them affects our essential relationship with God in Jesus Christ."
Billy Graham has written that 95% of Christians live spiritually defeated lives. That means only one of the twenty Christians you know is living a spiritually victorious life. I think that statistic would hold up if not be very close in most churches across America, including my own. And yet the Apostle Paul writes this should not be:
"Yet in all these things we are more than conquerors through Him who loved us." (Romans 8:37)
If we are more than conquerors over tribulation, distress, persecution, famine, nakedness, peril, or sword, then why are we spiritually defeated? It is because we do not fully understand our relationship with Jesus Christ.
"And I give them eternal life, and they shall never perish; neither shall anyone snatch them out of My hand." (John 10:28)
If I am inseparable from Christ, then why do I live a life separated from Christ? That is one of the great paradoxes of the Christian life. I have all the power I need in Christ Jesus to live a life of victory, and yet I try to live my life separated from that power:
"Abide in Me, and I in you. As the branch cannot bear fruit of itself, unless it abides in the vine, neither can you, unless you abide in Me." (John 15:4)
Is your life like a tree that bears no fruit? Have you been trying to make your way, your own way? Life presents things that are dangerously real, even unto death. A life without Christ is one that is temporarily defeated here on earth, and eternally lost in hell. However, a life in Christ is one of more than conquering the dangers here on earth; it is overcoming death eternally in heaven.
Which path are you on?
In Christ
Dave
Ps. 37:4
If you're receiving these devotionals for the first time and would like to receive them on a regular basis, please email me at jeffers221@bellsouth.net and use "Please add to Devotional List" as the subject. You can purchase Dave's five devotional books by visiting his Amazon author page.
Copyright © 2014 David Jeffers
Tags
Christianity, Covenant, Culture, Depression, Evangelism, Faith, Forgiveness, Grace, Guilt, Hell, Hope, Joy, Mercy, Politics, Revival, Sin, Truth, Wisdom